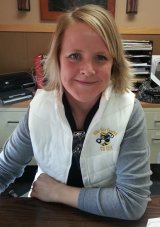 Laurie Olson
Laurie started in radio right here at KILR while attending college to pursue a 2-year AS Degree in Broadcasting at Iowa Lakes Community College. Since then she has worked for radio stations in Spirit Lake and Spencer.. and has now landed back at KILR.. returning September 2013.

She works behind the scenes for KILR, printing the daily commercial logs for the AM and FM stations.. along with writing and producing commercials for on-air advertisers.

Born and raised in Estherville, Laurie enjoys spending time with husband Kory, and their two daughters, Hannah and Kylie. Along with her interests of running, scrapbooking, waterskiing, and reading.. as a family the Olsons enjoy going camping, snowmobiling, watching auto races, attending Timberwolves and Vikings games, and taking familiy vacations.